The International Brotherhood of Electrical Workers Local 613 celebrated 100-years of unionism on Oct. 12, 2019, as over 1,700 members of Local 613 and their guests gathered together at the Georgia World Congress Center to celebrate the milestone occasion.
The event began with a cocktail hour, allowing Local 613 members and their guests to mingle before entering the large dinner venue.
Once inside the dining area, members and guests were met by program books, which detailed the storied history of IBEW Local 613 and included messages from their union Brothers and Sisters.
The program books were not the only item to showcase the Local's history. A video featuring historical photographs and video footage from throughout the years was shown on multiple screens throughout the venue.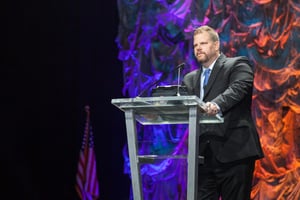 Attendees were treated to multitude of speakers such as IBEW 613 President Kevin Swanson, Local 613 Business Manager Kenny Mullins, Business Manager/Financial Secretary of the Atlanta and North Georgia Building Trades Randy Beall, Business Manager/Financial Secretary of Local 1316 Harry Murray and a video message from IBEW International President Lonnie Stephenson.
During the sit-down dinner, a video was played, which highlighted the work and progress Local 613 has made over the years.
After the dinner service and presentation, attendees were entertained by a local band, who played through the remainder of the event.
A Georgia inspired cocktail, called the Peach Lightning, was created specifically for the event.
Later in the evening, guests enjoyed finger foods, cocktails and dancing in a nightclub themed section of the venue.
Event attendees received commemorative 100-year anniversary tumbler cups.
IBEW Local 613 is proud of its storied history and looks forward to celebrating additional milestones with our members and their families.