Friends of IBEW Local 613
Support Those Who Support Unions
At IBEW Local 613, we encourage our members to support or get involved with groups and organizations that value unions. As union members, we know that those who understand the hard work and dedication union workers put into their jobs, will go a long way in creating a prosperous relationship. Your support helps support American unions.
Whether it is buying a new car or gearing up for your upcoming fishing season, IBEW Local 613 encourages our members to be aware and find ways to help our fellow Brothers and Sisters.
Please check out the links below. They will help you connect with other union tradesmen and tradeswomen, help you find union-made products in the United States or receive discounts due to your union membership. Remember, being a member of Local 613 puts you in a unique position to help other union workers.
The Union Label and Service Trades Department, AFL-CIO, was founded in 1909 to promote the products and services produced in America by union members — especially those products and services identified by a union label, shop card, store card and service button
When you see a union label — whether it is on a product, union shop, or on a union button worn by a worker — it signifies quality goods and services. Learn more about Union Label on their website, www.unionlabel.org.
Union Auto Program is a convenient, fair priced union member benefits program that offers a free choice of one Peace of Mind Benefit with a new or pre-owned vehicle purchase.
Local 613 members are encouraged to click here for a better way to buy a car program with FREE union member benefits, saving you and your family an average of $5,000 annually.
Union Sportsmen's Alliance (USA) is a conservation organization for union members who share a passion for hunting, fishing, shooting and the great outdoors. USA is committed to uniting millions of union sportsmen and sportswomen into one community. For more information about Union Sportsmen's Alliance, check out their website: www.unionsportsmen.org
American Retirement Advisors, Inc., is a registered investment advisor whose mission is to provide personalized investment strategies for our clients to help them achieve their financial goals. With a team of CPA's and CFP's, American Retirement Advisors, INC is available to provide financial planning and investment management services on a Holistic level. Learn more, here: https://www.aradvisorsinc.com/
We strongly urge our members and their family to support other union members and their families by working with companies who accommodate union members.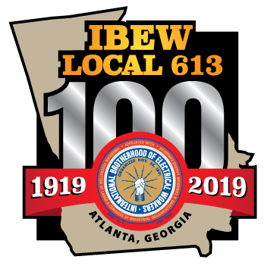 IBEW Local 613 would like to thank the following for sponsoring our 100-year anniversary celebration:
C&C Electrical Services
CAIR-NGA, Inc.
CHK Marketing
Georgia State BCTC
Precision Electrical