Begin Your Career As An IBEW 613 Apprentice
Earn While You Learn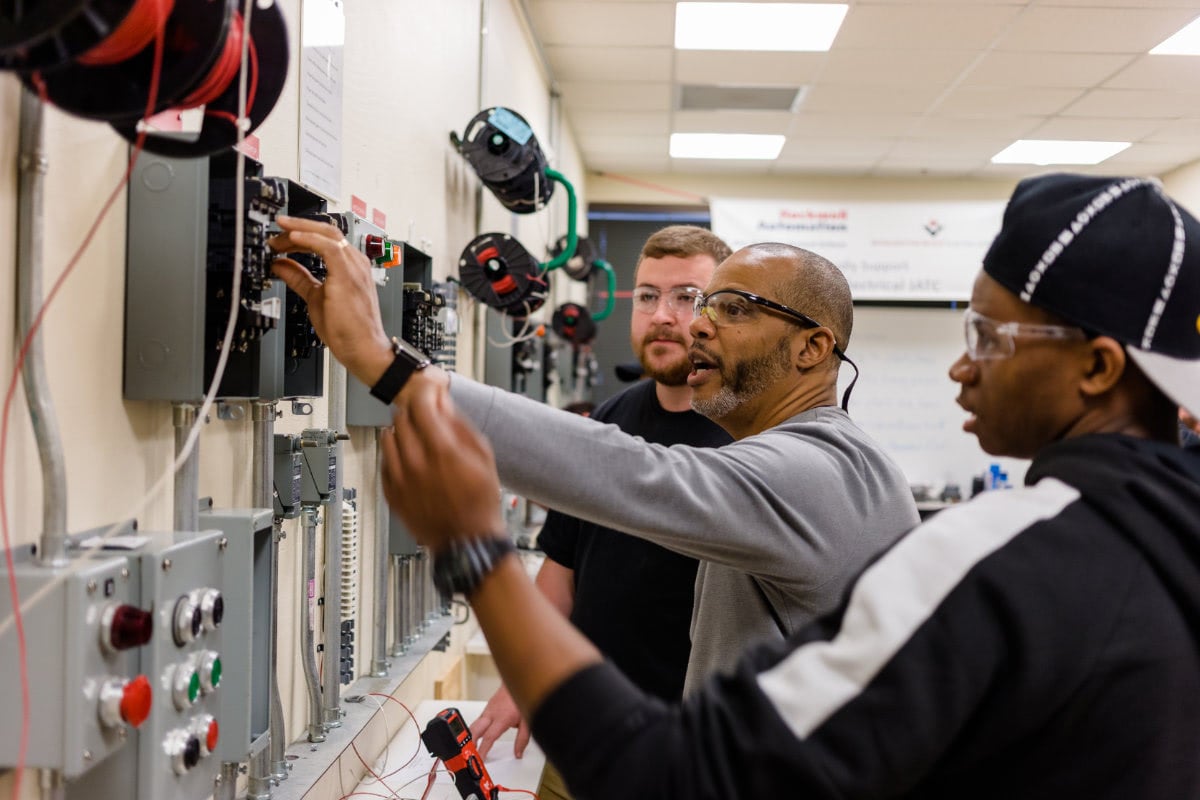 Avoid racking up tens of thousands of dollars in college debt by applying to become an apprentice with the International Brotherhood of Electrical Workers Local 613.
A career as a union electrician or electrical worker will pay you a livable wage as you learn the trade. Additionally, you are eligible to receive excellent health insurance and great retirement benefits. Often, these benefits are not offered by non-union electrical contractors.
Whether you have or will be graduating from high school, are a college graduate or simply want to change careers, an apprenticeship with Local 613 can positively change your life.
An electrical apprenticeship through the IBEW Local 613 Joint Apprenticeship Training Committee is an excellent alternative to college. While college students are amassing a large amount of student loans, apprentices are starting what can be a lucrative career, where they work with their hands.
Instead of coming out of college and figuring out how to pay off students loans, apprentices can be in a position to purchase a home, new vehicle, major electronics or go on a dream vacation. Most first-year journeymen (men and women who successfully completed their apprenticeship training) earn more than most first-year college graduates.
For college graduates and those currently employed in another field, becoming a union electrician can be very satisfying. Instead of working inside an office building every day, apprentices can work with their hands - either inside or outside. In many instances, the total compensation package - hourly wage, health insurance and retirement benefits - far exceed what the package they are currently earning.
Our apprentices earn while they learn, which means they work on a jobsite with experienced journeymen electricians, who teach them the trade. IBEW Local 613 apprentices earn a good paycheck, as they learn the ins and outs of how to become a highly trained electrician. Besides on-the-job training, our apprentices also receive mandatory classroom instruction on various key electrical industry topics. Furthermore, they also earn industry-leading OSHA safety certifications and other certifications required by contractors.
The five-year registered apprenticeship program is conducted at our state-of-the-art Electrical Training Center, which is located in Norcross. Our industry-leading training program is what separates IBEW Local 613 apprentices and journeymen from our non-union counterparts. No other training can stand up to IBEW training.
During their apprenticeship, Local 613 apprentices learn about the importance of quality craftsmanship and how to perform work efficiently and correctly.
IBEW Local 613 apprenticeship program requirements:
Live within the Local 613 jurisdiction
Valid Georgia or Alabama drivers license
High school diploma or GED equivalent
Must pass a background check
You can learn more about our Registered Apprenticeship Program here