Join IBEW Local 613
Become A Member Of IBEW Local 613
Joining IBEW Local 613 may be one of the best career decisions you will ever make. The benefits of joining this union and pursuing a career as an electrician are vast. From a livable wage to great benefits, IBEW Local 613 offers it all!
There are multiple ways of becoming an electrician and a member of IBEW Local 613. Whether you are a young person looking to forge a career, someone who is switching careers or you are an experienced electrician looking to improve your situation, IBEW Local 613 wants to get you involved.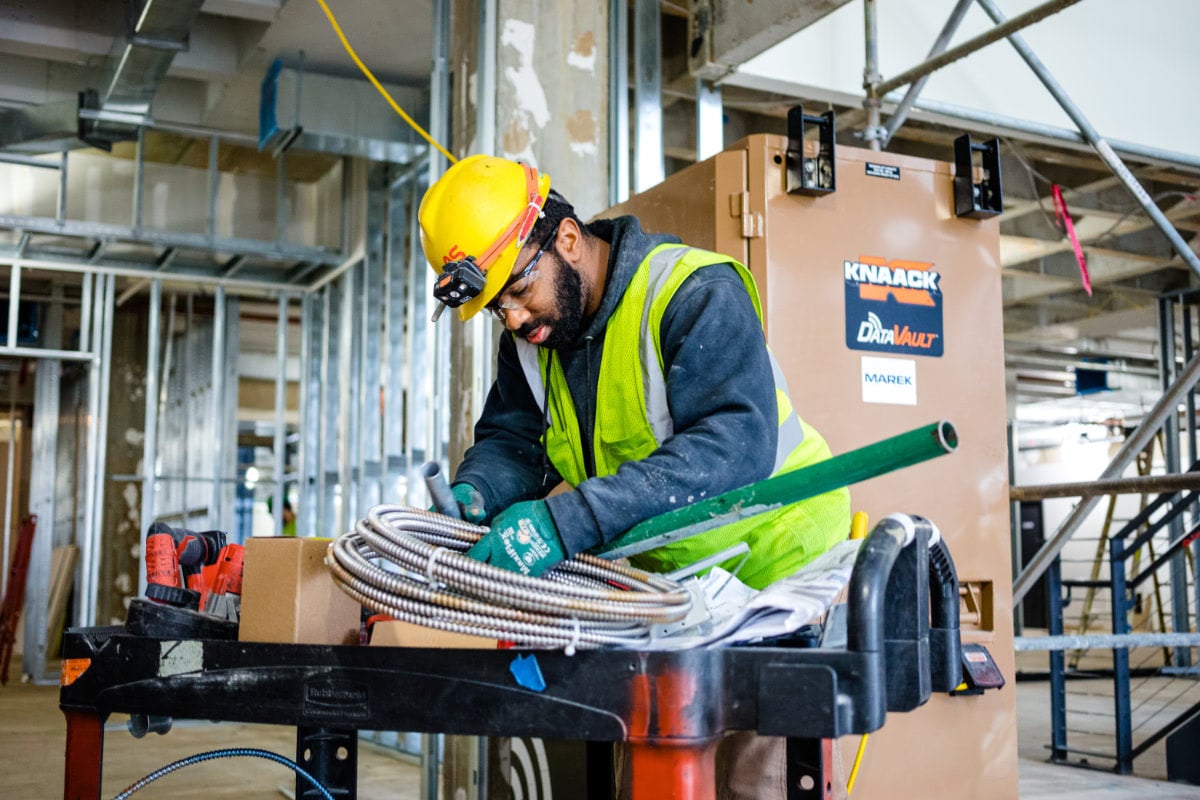 Apprentices wanted
Many members of IBEW Local 613 came up through the Local 613 registered apprenticeship program. This apprenticeship program is recognized by the Department of Labor (DOL) as the electrical construction industry standard. It is a five-year apprenticeship program, which will provide you with the education needed to become a highly-skilled electrician.
In this program, apprentices will learn on-the-job from experienced tradesmen and tradeswomen. While they learn through experience, they are paid a livable wage with scheduled raises and a great benefits package.
To supplement their on-the-job training, apprentices also attend classes at the Electrical Training Center. The instructors at the training center are accredited professionals, with years of experience working in the field.
Experienced electricians welcome
IBEW Local 613 also seeks to organize experienced electricians, who work within our jurisdiction.
If you are a licensed electrician, who is looking to improve your situation, IBEW Local 613 is the way to go! Our signatory contractors are flush with work opportunities to help you improve your career.
The benefits of joining Local 613 are plentiful. Our negotiated wages and benefits package are better than the total package offered by non-union contractors. Also, the ability to work with any of our signatory contractors opens up work opportunities, which may be unattainable with your current employer.
Another form of job security and increased work opportunities with Local 613 is the ability to travel. Construction is a cyclical industry, where work comes and goes. Being a member of the IBEW allows you to "sign the book." This means you can travel to a location where work is plentiful and get on a list to work for an IBEW signatory contractor in the area.
One of the best ways to secure work for yourself is to improve your skillset and industry education. Local 613 members are encouraged to pursue journeyman upgrade classes. By pursuing advanced certifications or brushing up on skills you have not used for some time will make you a more marketable tradesman or tradeswoman.
What are you waiting for? Contact one of the two people below to get started on the road to IBEW membership.
James Carr
Membership Development Manager
Phone: (404) 523-8107 Ext. 222
Email: jamescarr@ibew613.org
Karen Jackson
Research Technician
Phone: (404) 523-8107 Ext. 229
Email: karenjackson@ibew613.org