IBEW Local 613 wants you
Join our Local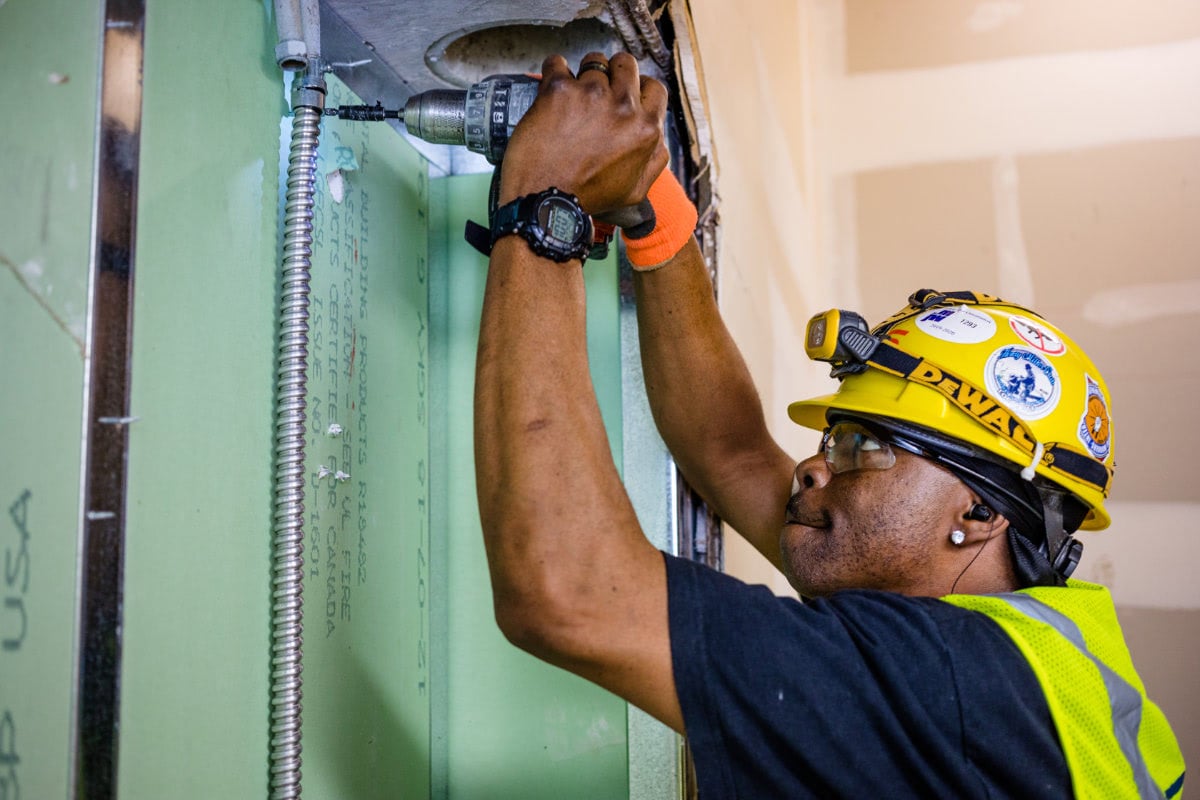 Becoming a member of IBEW Local 613 can reshape your life.
Experienced electricians within the Local 613 jurisdiction can earn wages and benefits they deserve. Additionally, Local 613 members have opportunities to further qualify themselves by participating in upgrade training courses through the Local 613 JATC.
If you are an experienced electrical worker, you can immediately earn journeyman classification status by showing all qualifications and W2 forms to earn credit. If you do not have five years of experience, you will be given credit for the years you are experienced and will be given tuition-free training to obtain journeyman status.
In addition to journeyman classification and upgrade training, experienced electricians who become members of Local 613 can "sign the book." This means they can travel to other regions when work within the jurisdiction slows down. Having this luxury allows you to continue earning for your family.
Benefits for experienced electricians joining IBEW Local 613:
Tuition-free training
Employer paid benefits package
Greater work opportunities
IBEW Local 613 also wants electrical workers with some experience. With Local 613 you receive a free education, quality wages and benefits, job placement and much more.
Although you have experience, you still may need more training. Those with some experience may need to attend apprenticeship courses at the Electrical Training Center in order to gain journeyman status.
Apprentices have access to high quality career training through the IBEW Local 613 JATC. Experienced instructors will teach them about electrical theory, code and safety during the five-year, tuition-free program.
To become a member of IBEW Local 613, applicants must meet the following criteria:
Must live in the Local 613 jurisdiction
Georgia or Alabama drivers license
Social security card
High school diploma or GED equivalent
Agree to a background check
Once your application and required documents are submitted, we will process your background check. Once the background check is processed, we schedule an assessment test to determine your knowledge of the electrical industry. Depending on the results of the test and an interview, we will determine if you need more training to become a journeyman inside wireman. Local 613 will also begin searching for a work assignment for you.
Before applying for Local 613 membership, please contact one of the following:
James Carr
Membership Development Manager
Phone: (404) 523-8107 Ext. 222
Email: jamescarr@ibew613.org
Karen Jackson
Research Technician
Phone: (404) 523-8107 Ext. 229
Email: karenjackson@ibew613.org